TORNEO ONLINE LEAGUE OF LEGENDS 5VS5
Debido a la situación actual que estamos viviendo por el COVID-19, hemos decidido organizar una serie de torneos ONLINE para que todos podáis seguir disfrutando de la esencia de nuestras competiciones, pero esta vez desde vuestras casas.
¿Cómo participo?
Elige la entrada del torneo en el que quieras participar.
Rellena todos los datos.
Una vez realices la inscripción, la organización te hará una invitación al servidor de Discord a través de tu correo electrónico proporcionado.
El torneo puede durar varios días en función del número de inscritos.
Los brackets se publicaran unas horas antes del torneo.
Recuerda que es muy importante leer tanto las normas del servidor de discord como las reglas del torneo.
¡Esperamos que disfrutes del torneo y que sirva para que no te aburras tanto! 
ELIMINATORIAS: 6 Y 7
CUARTOS, SEMIS Y FINAL: 8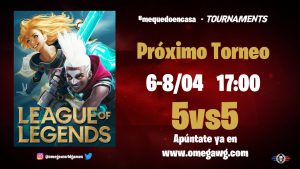 REGLAS LEAGUE OF LEGENDS ONLINE 5VS5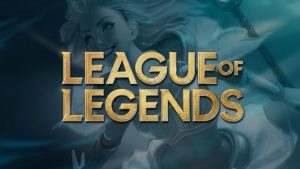 El torneo de League of Legends se realiza de la siguiente manera: se juega en equipos de 5vs5 en La Grieta del Invocador.
Se realizarán enfrentamientos directos entre los equipos, y el vencedor pasará a la siguiente ronda.
Las reglas son las siguientes: Se creará por parte de la organización una partida personalizada, en modo de torneo de reclutamiento, y los jugadores se unirán a ella. 
Se seguirás las normas competitivas de Riot.
Si durante el torneo los participantes tienen algún problema deberán comunicarse con la organización a través del canal habilitado en Discord en cada torneo.
Se permitirán Coach en el canal de la partida hasta después de los picks y bans.
Si hay que reiniciar la partida, se deberá comunicar a la organización y se realizaran los mismos picks y bans que en la anterior.