TORNEO ONLINE LEAGUE OF LEGENDS 2VS2
Debido a la situación actual que estamos viviendo por el COVID-19, hemos decidido organizar una serie de torneos ONLINE para que todos podáis seguir disfrutando de la esencia de nuestras competiciones, pero esta vez desde vuestras casas.
¿Cómo participo?
Elige la entrada del torneo en el que quieras participar.
Rellena todos los datos.
Una vez realices la inscripción, la organización te hará una invitación al servidor de Discord a través de tu correo electrónico proporcionado.
REGLAS TORNEO ONLINE LEAGUE OF LEGENDS 2VS2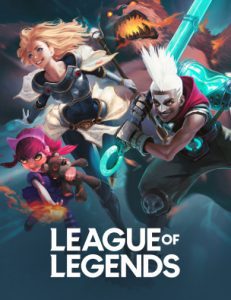 El torneo de League of Legends 2vs2 se realiza de la siguiente manera:
Juegan los jugadores en modo 2vs2 en la grieta del invocador usando solamente el carril central, sin sobrepasar en ningún momento la hierba del río. En modo eliminatoria simple. La final será al mejor de tres.
Las reglas son las siguientes:
Se creará por parte de la organización una partida personalizada
La victoria la obtendrá el equipo que cumpla una de las siguientes condiciones: primer equipo en tirar la primera torre, primer jugador en alcanzar 100 minions farmeados (de manera individual, es decir cuando uno de los integrantes del equipo los consiga), primer equipo en conseguir 3 muertes.
Si durante el torneo los participantes tienen algún problema deberán comunicarse con la organización a través del canal de incidencias habilitado en Discord en cada torneo.